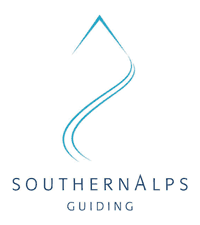 Skiing the Tasman Glacier in the Aoraki Mount Cook Ski Region with Southern Alps Guiding is the ultimate adventure. The classic 2 run Skiplane adventure offered by Southern Alps Guiding is now in its 34th year of operation and continues to deliver a professional high quality service to our customers. Charlie Hobbs, lead guide and owner, has 38 years of guiding experience in this area. He is an internationally qualified Mountain and Ski Guide IFMGA/UIAGM. He will guide you on this special day. You'll enjoy being guided by Charlie because he loves being in his "office" and knows every nook and cranny on the glacier. We'll take you to all the special locations on the Tasman Glacier.
You don't have to be an expert to ski the Tasman Glacier skiplane adventure. The skiing terrain is ideal for intermediate skiers. Organise a group of family or friends and book this amazing adventure.
COST
Includes 2 runs on the Tasman Glacier, guide fee, 3 amazing skiplane flights, mountain lunch, safety equipment, DOC fees and GST.
$1099 per person for an awesome fun ski day
THIS COULD VERY WELL BE THE MOST EXCITING SKI DAY IN YOUR LIFE! CALL 0274342277 FOR EARLY BOOKINGS AND TALK WITH CHARLIE.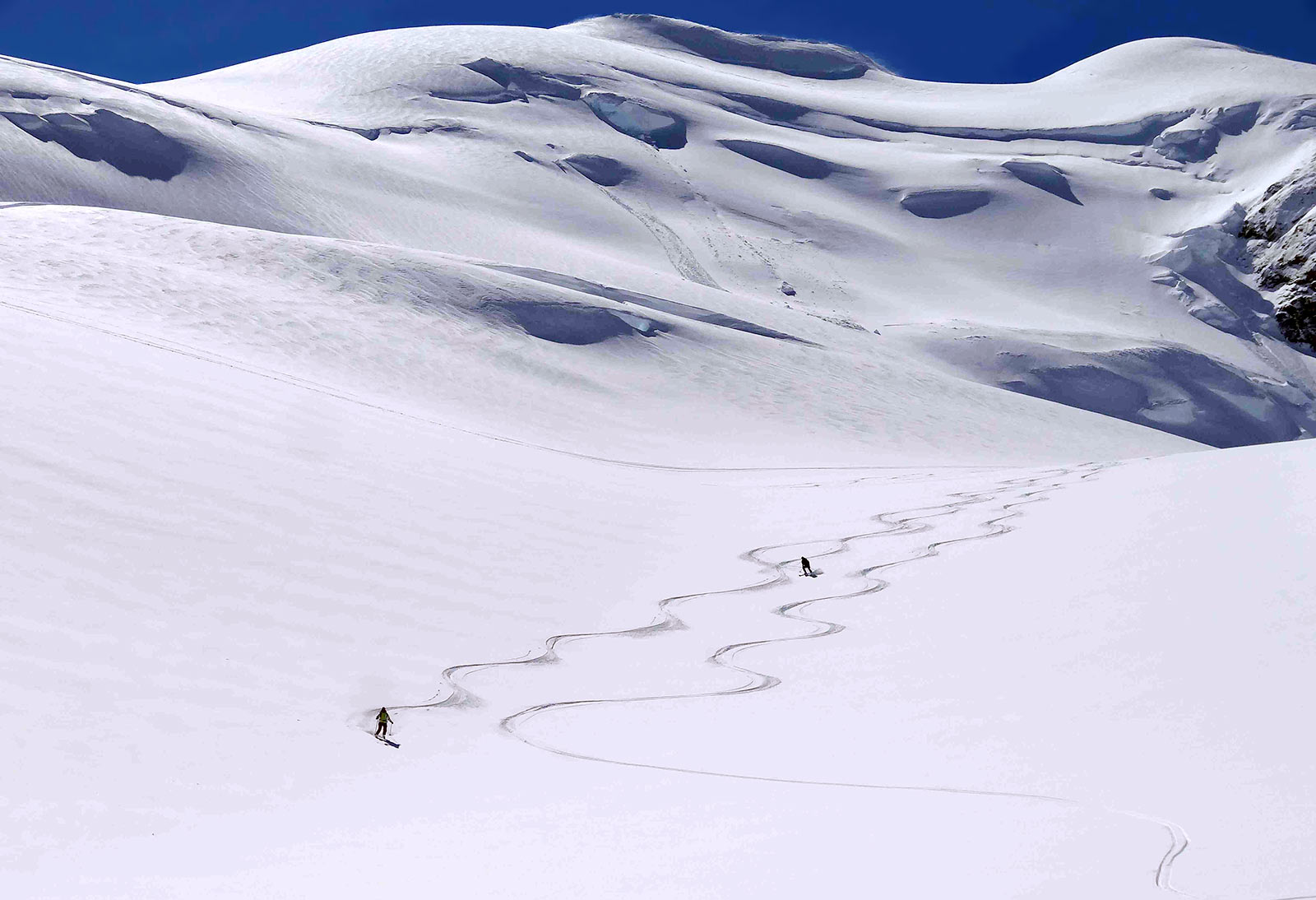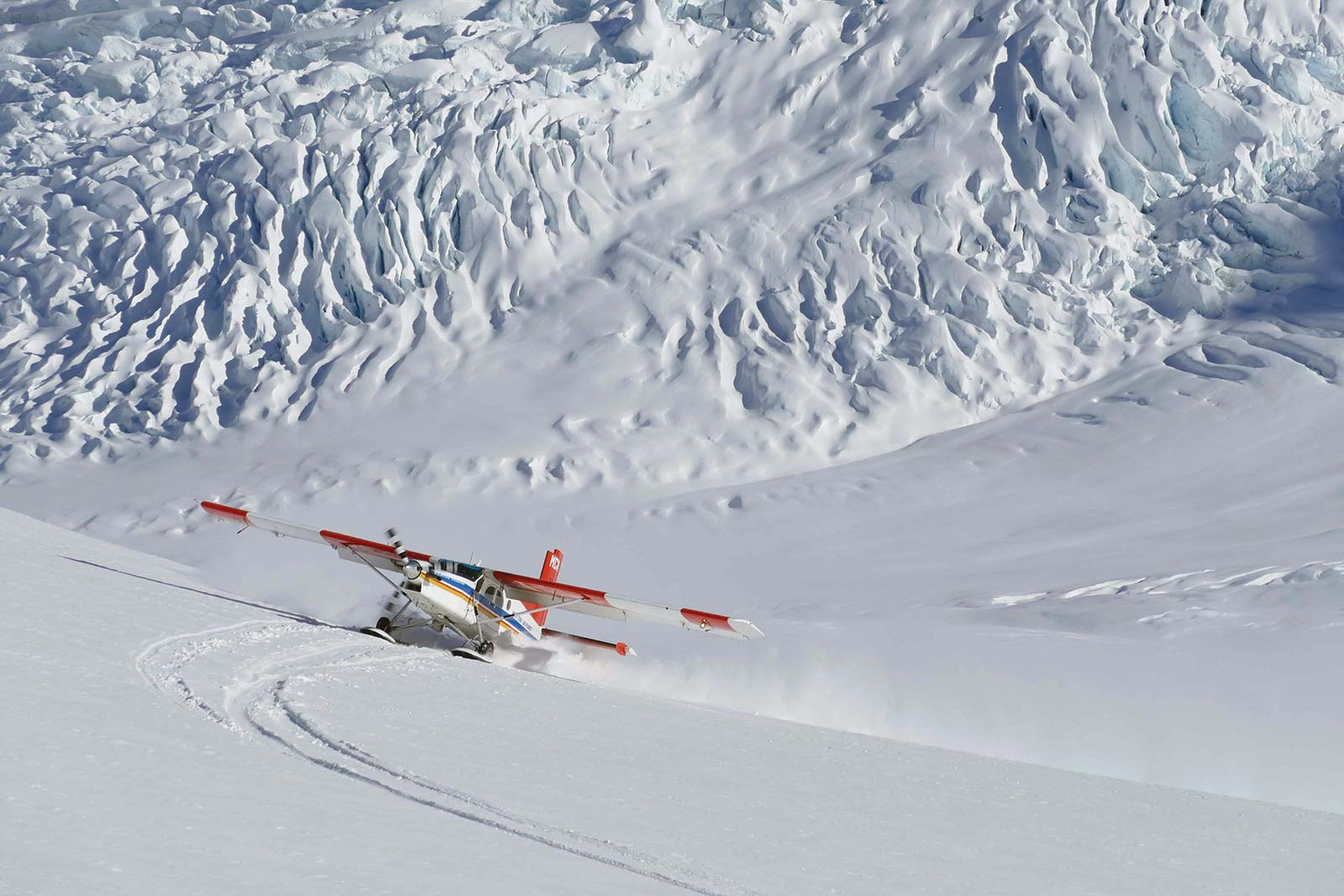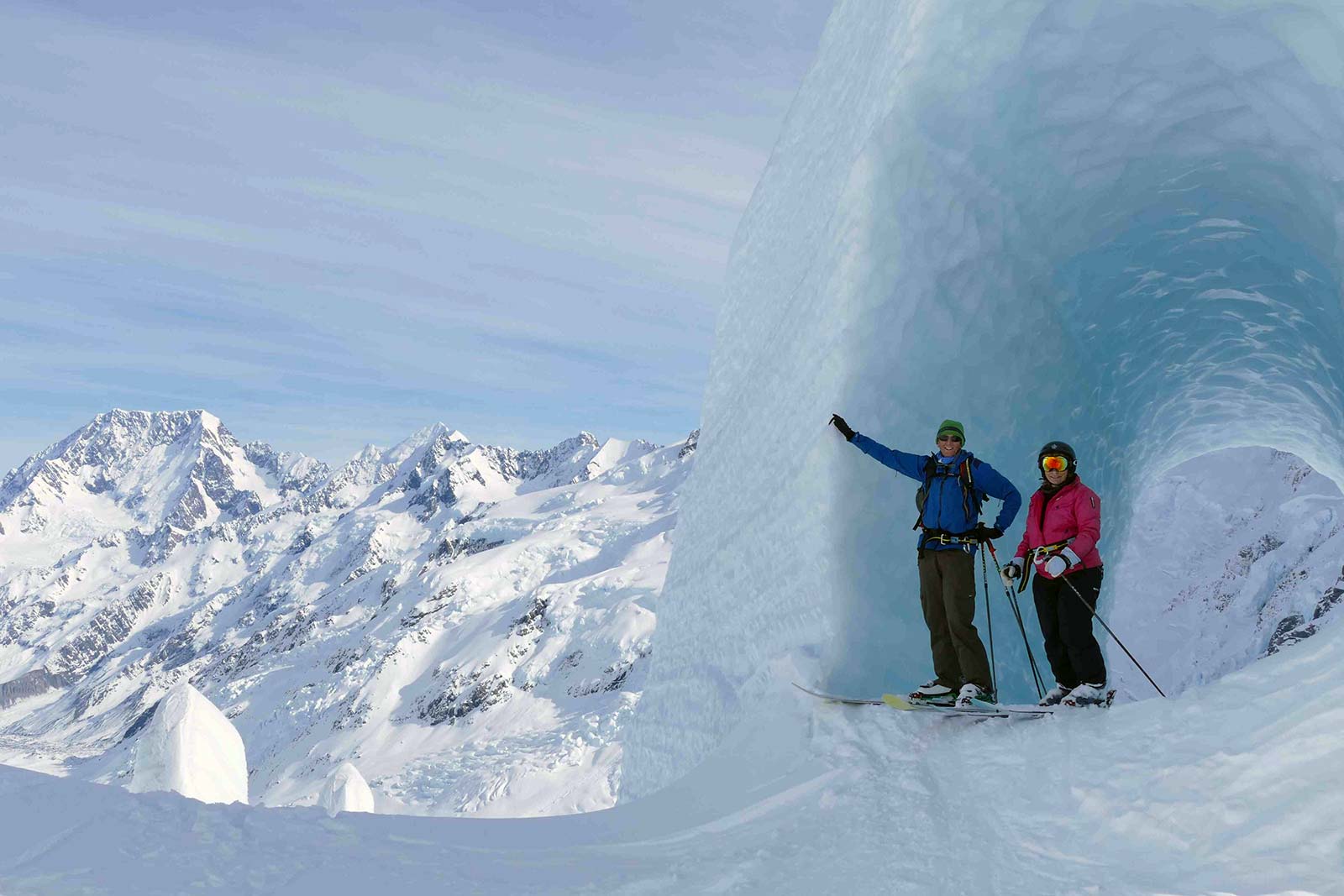 Tasman Glacier Skiing in Aoraki Mount Cook National Park.
New Zealand's longest ski runs with panoramic scenery of the biggest mountains and glaciers in the country. Aoraki Mount Cook dominates this awe inspiring landscape. We think of it as the "8th Wonder of the World." Many people have this trip on their "bucket list" of things to do.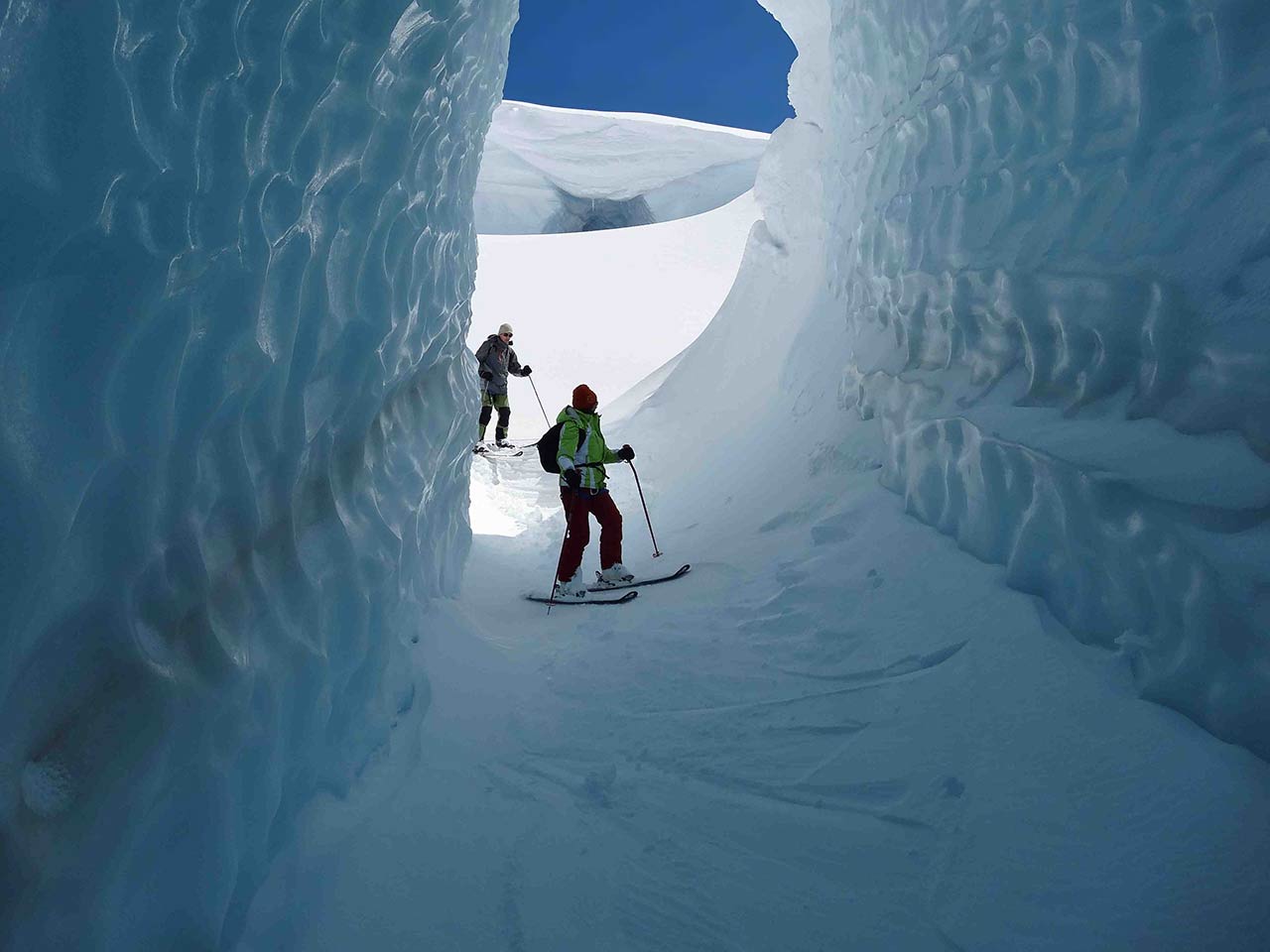 Above: Unbelievable ice caves.
The world-famous Tasman Glacier is 29km long and flows among the highest mountains in New Zealand. Fly into the heart of the Southern Alps and land at the head of the Tasman Glacier in the famous ski-equipped ski plane. Visit incredible ice caves, peer into deep crevasses and visit glacial canyons. The skyscraper-sized ice blocks are an amazing sight.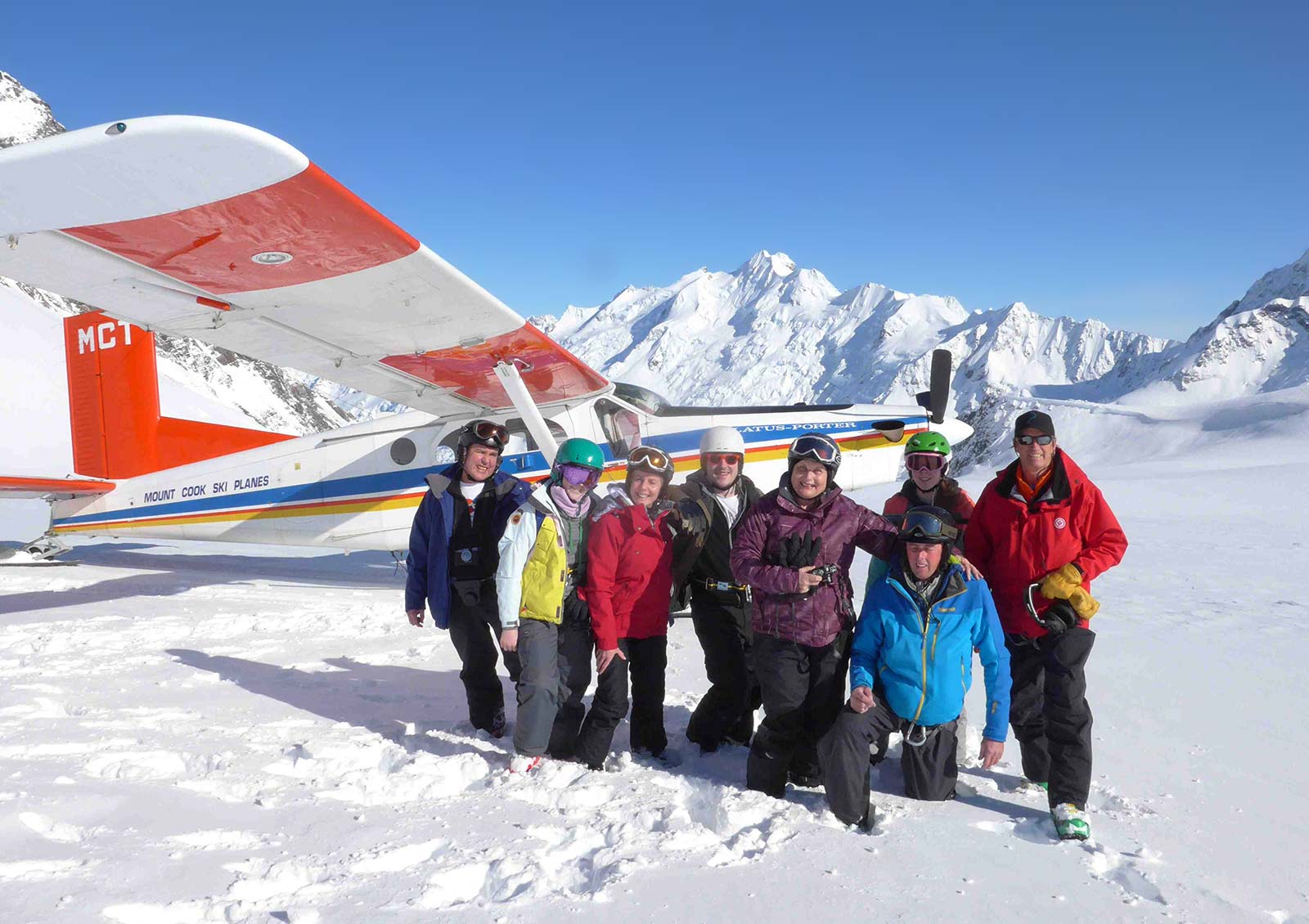 Then onto a 8-12km ski run to your awaiting aircraft. "Get in, buckle up and start again". Explore a different distant corner of this great glacier for another lengthy ski run. After our second "long" ski-run we finish off with a scenic flight back to Aoraki Mt Cook airport. It's then off to The Old Mountaineers Café Bar & Restaurant for refreshments. We have "fat skis" available for hire which make your day on the Tasman Glacier much more enjoyable.
Tasman Glacier Skiing includes two "very long" ski runs of up to 8-12kms each run, professional guide service, lunch, 3 scenic aircraft flights, safety equipment, GST & DOC permit fees. We use Skiplanes for this trip but can use a helicopter if skiplanes are unable to fly on the day at extra cost.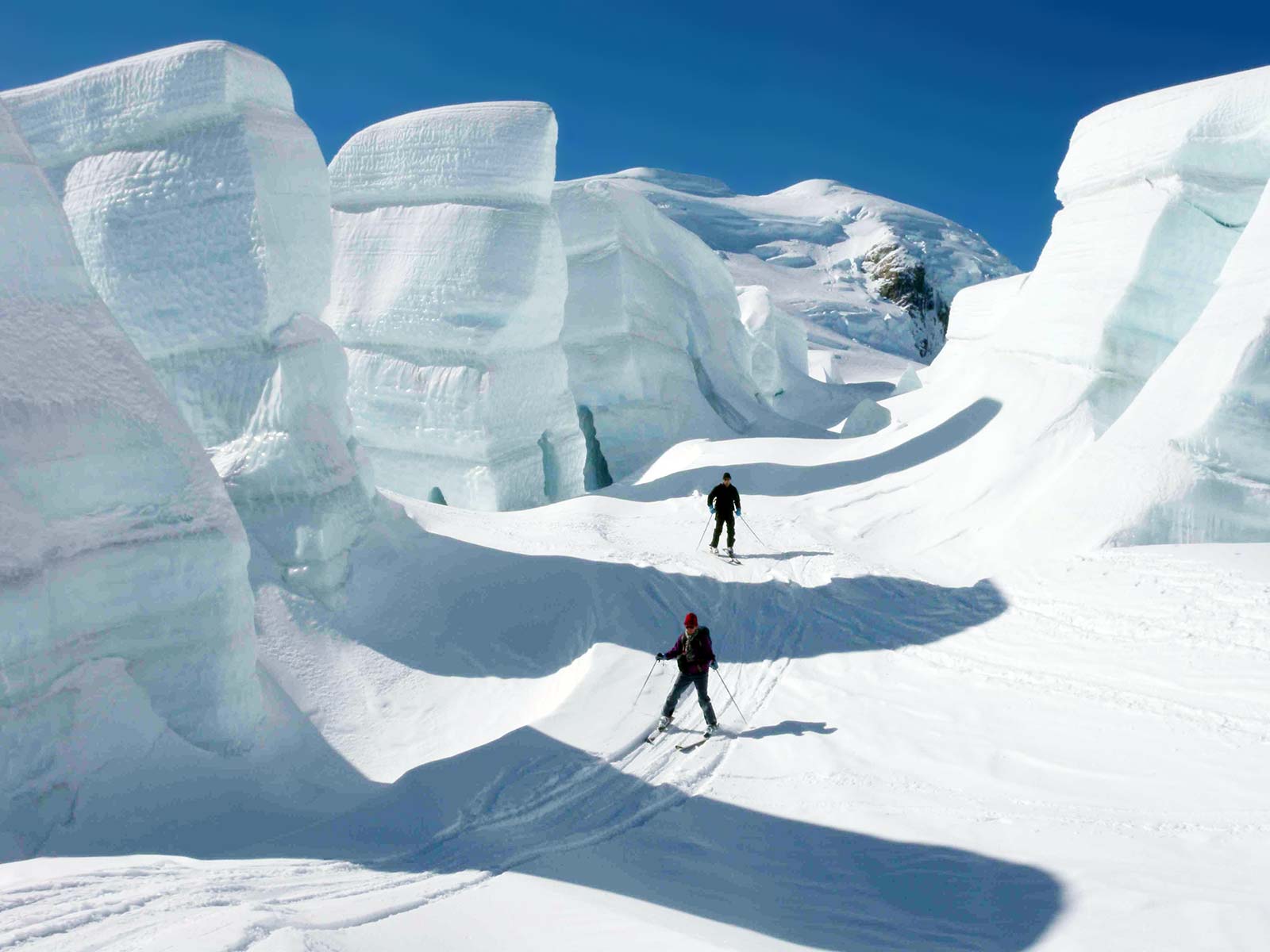 Above: Intermediate skiing through the Ice Canyons. Long glacier runs!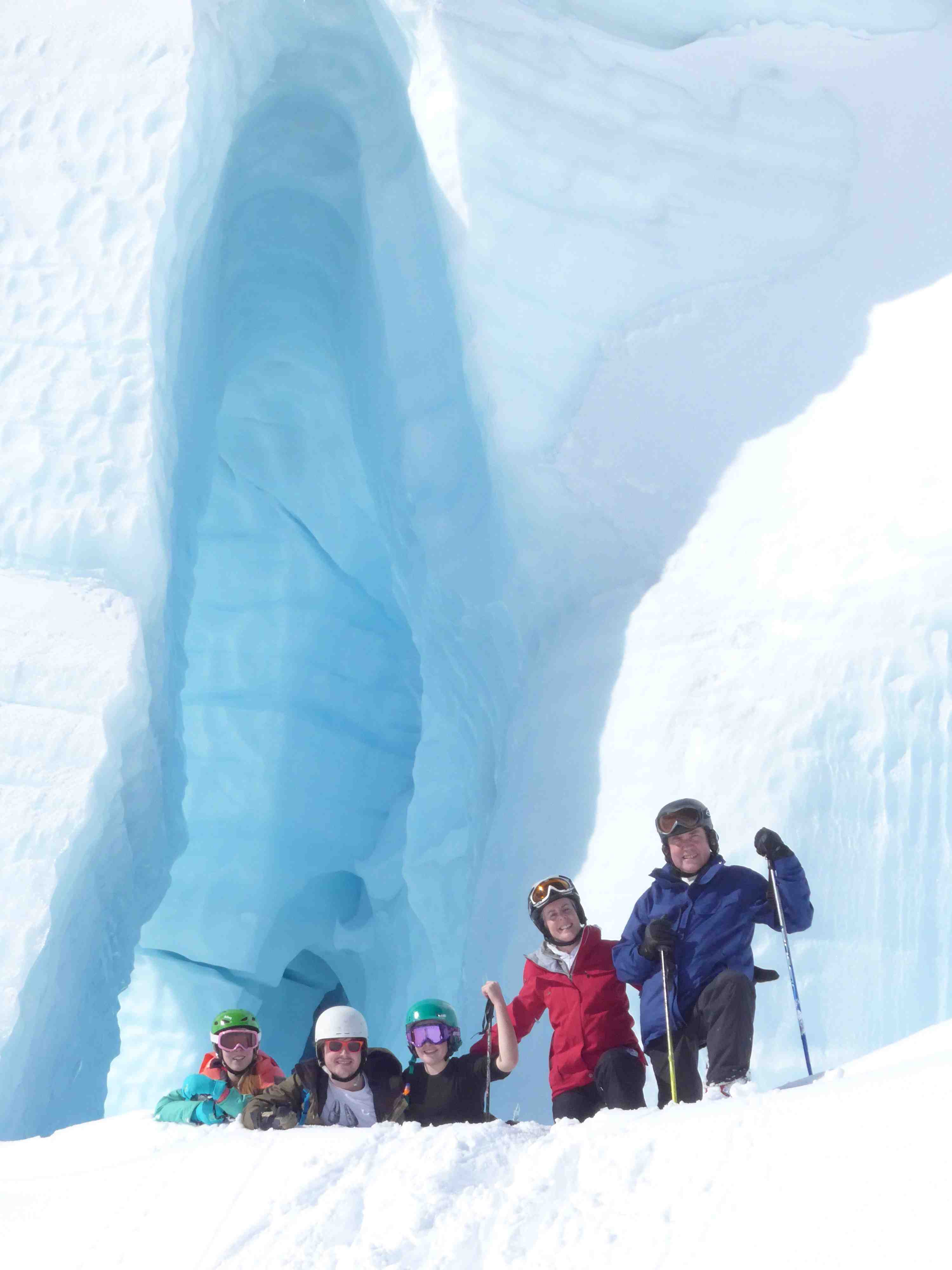 A great family adventure on the Tasman Glacier - Skiing the Tasman.
HERE'S WHY WE HAVE SO MUCH SNOW ON THE TASMAN GLACIER: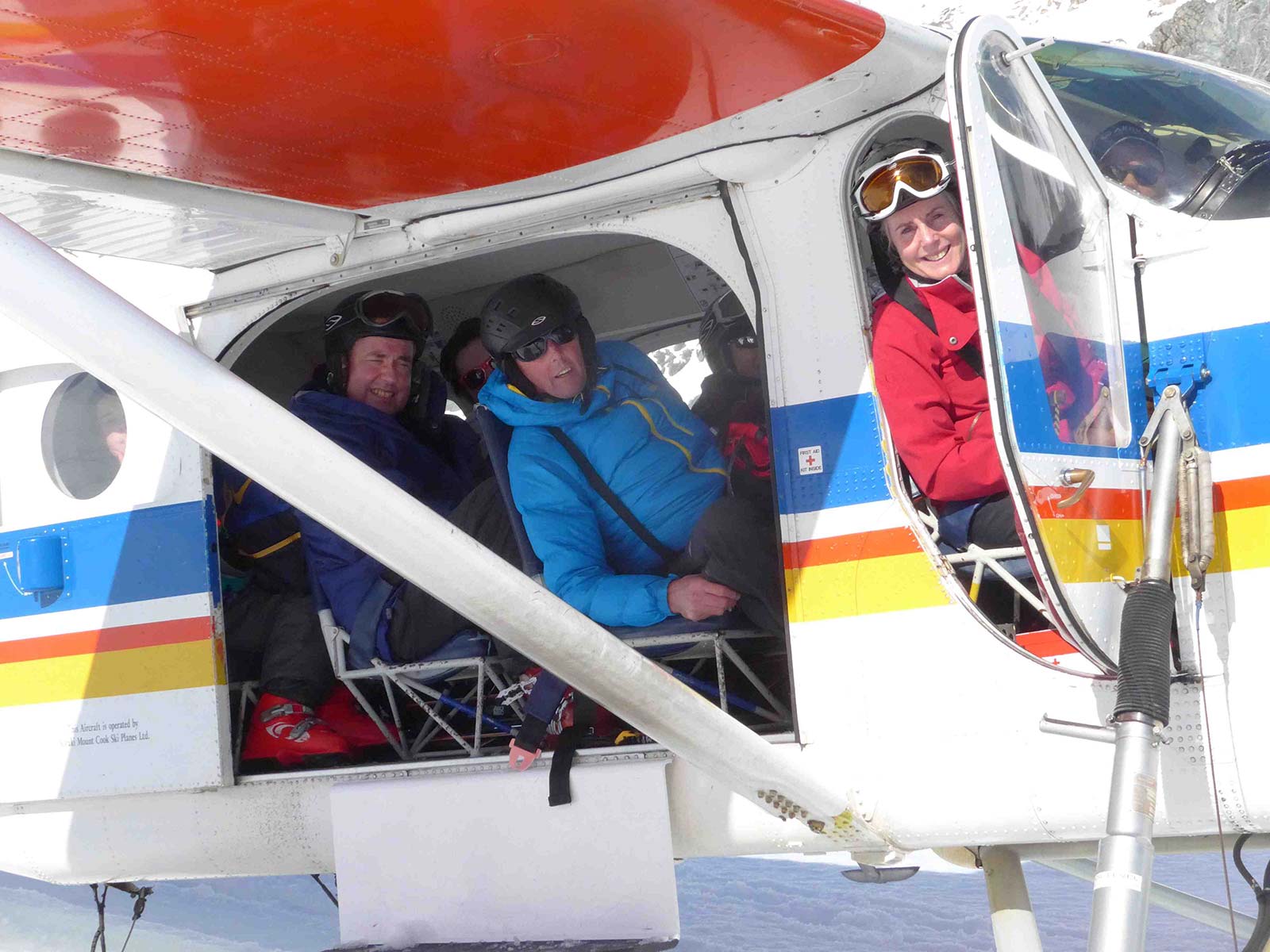 Tasman Glacier Heli-Ski areas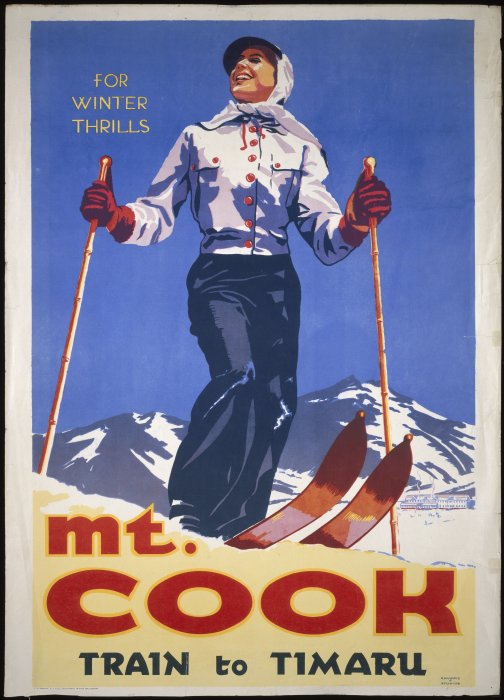 Join us on our EXCLUSIVE heli-ski runs at the head of the Tasman Glacier in the Aoraki Mt Cook National Park.
We also operate Heli-Skiing in the Hopkins Valley, The Two Thumb Range and the Black Hills in the Ruataniwha Conservation Estate.
Tasman Glacier Skiing and Tasman Glacier Heli Skiing is a once-in-a-lifetime trip and spaces are at a premium. Early bookings are essential and must be reconfirmed the day before your ski trip.
All trips depart from The Old Mountaineers Café Bar & Restaurant next door to the Department of Conservation Visitor Information Centre.
Tasman Glacier Skiing operates between July 1 and October 31.
Minimum numbers required. See our Contact Page.
Guides: Our guides are certified through the NZ Mountain Guides Association and the IFMGA.
We are Safety Audit Certified and DOC Approved.
"Southern Alps Guiding Ltd works with the Department of Conservation (DOC) to ensure that our impact on New Zealand's National Parks and reserves is minimal. We are an approved concession holder, ensuring that your visit with us to conservation lands adheres to best practice and contributes to the management of these protected areas"
---
Other Information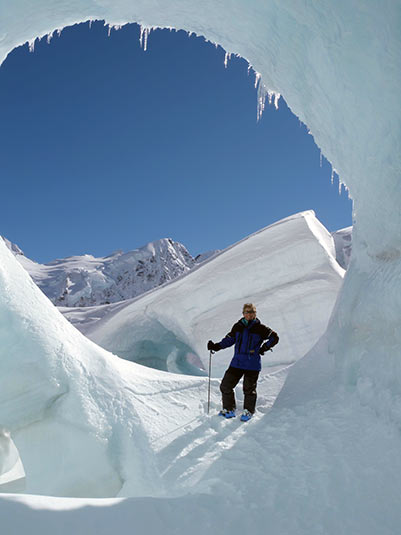 What equipment to bring
Bring along your down hill skiing equipment. Warm ski gear is essential. Sunblock, camera. A small day pack comes in handy. Ski helmets are welcomed. Sorry - no snow boarders on the Tasman Glacier Skiing trip BUT we do take boarders on the Tasman Glacier heli-ski Day trip and Glacier heli-skiing trips.
Travelling to Mt Cook Airport
You can ski on the glaciers with us for the day from Christchurch, Methven, Queenstown or Wanaka. We can organise a personal charter flight from these areas. If you prefer driving, travel times are between 2.5 - 3.5 hours.
Accomodation
There is a good range of accommodation at Aoraki Mount Cook. We can send you a list of providers with good winter deals.
Snow Reports
Tasman Glacier Skiing and Tasman Glacier Heli-skiing updates - call or text on 027 434 2277.
CANCELLATION POLICY
We reserve the right to cancel or change any part of any trip. This could be due to adverse snow,avalanche, mountain or weather conditions or any other mountain related scenario. We have a strict 24 hour cancellation policy which means that if WE cancel the trip due to any of the above conditions will give you a full refund. If you decide not to do the trip within 24 hours of the trip start time for any reason (you sleep in, have a vehicle breakdown, an unexpected illness or injury etc) or we cancel your booking because of client unsuitability due to poor fitness or health there will be no refund. Please ensure you have travel insurance to cover all potential cancellation scenarios.
UNDERSTANDING THE RISKS – HAZARD DISCLOSURE FORM
I am aware that participating in the mountain, alpine, sub alpine and skiing activities offered by Southern Alps Guiding Limited (SAG) or Aoraki Mt Cook Guiding Limited (AMCG) can be hazardous if they are not conducted with care, control and responsibility. I acknowledge that these risks could result in my injury (physical or mental) or even death.
I accept that this activity inherently involves risks and potential hazards. The risks and hazards include, but are not limited to
1 Aircraft malfunction
2 Snow and/or ice or rock avalanches
3 Crevasses
4 Mixed snow conditions (crust, powder, ice, wet)
5 Shallow snowpack with hidden rocks
6 Burial by avalanche
7 Crevasse fall due to snow bridge failure
8 Crevasse fall due to skiing outside the guides safety directions
9 Suffocation due to burial in an avalanche
10 Trauma due to avalanche involvement
11 Trauma due to impact with rocks above or below the snow
12 Trauma due to poor skiing technique by myself
Medication/health conditions
I have informed the staff of SAG and AMCG (or will, prior to undertaking the activity) of any medical conditions, previous injuries and any medication I am currently taking which may affect my ability to undertake the activity.
I confirm I am physically fit and able to participate in the activities and I have not been advised otherwise by a qualified medical person.
I consent to receive any medical treatment that may be deemed necessary by SAG or AMCG in the event of injury, accident or illness while undertaking the activities.
I understand it is my responsibility to disclose any conditions (health or otherwise) that may affect the safety and enjoyment of myself and those around me.

Conditions of participating in activity
• I agree to participate in activities with care, and obey the rules set out by and instructions given by the guide (or a representative of SAG or AMCG), at all times.
• I accept that if I do not adhere to the instructions and rules, or if I act dangerously, recklessly or in a way that might endanger myself or others, SAG or AMCG may remove me from the activity. If this occurs, I acknowledge I will not receive a refund.
• I accept that SAG or AMCG reserves the right to cancel this activity if it becomes concerned for my safety, or the safety of another person.
• I agree to wear appropriate clothing and use/wear all safety clothing and equipment (as required by the guide) at all times when participating.

Limited Liability of SAG or AMCG
• I understand that if I act recklessly or intentionally, and don't follow the rules or instructions set out by SAG or AMCG and the guide, which I have been made aware of, SAG or AMCG will not be held responsible for any injury, damage or loss I cause to myself/my property, or another person/their property, resulting from my action (or lack of action).

Terms of use
This Risk Disclosure has been developed by Southern Alps Guiding Limited and Aoraki Mt Cook Guiding Limited.

Liability of landowner
• I agree that the owner(s) of the land on which the activity is conducted will not be held responsible for any death, injury, misadventure, damage to or loss of property caused in whole or part by these activities.

Damage to property or equipment
• In the event that I damage any of the clothing or equipment, or other property owned by SAG or AMCG or a landowner, I agree to pay to SAG or AMCG (or the landowner) all costs associated with repairing the damage.
Drugs/Alcohol
• I confirm I am not under the influence of intoxicating alcohol or drugs (be they legal or illegal) which may in any way impair my ability to undertake the activity.
Marketing
• I give SAG or AMCG permission to send me emails and/or post relating to SAG or AMCG events and promotions, as well as the right to use all photos and videos of me taken during the activity for promotional and social media purposes.
PARTICIPANT SIGN-OFF
I agree that by signing this 'Understanding the Risks form':
1. I accept there are inherent risks and hazards associated with participating in the activity and I understand what these risks are (including serious harm and death);
2. I am physically and mentally fit to participate and there is nothing I am aware of that will affect my ability to safely participate, or impact the safety of other participants.
3. I wish to proceed with the activity at my own risk.
________________________ ___________________ _____
Full name Signature Date