Glacier Kayaking is the ultimate way to experience the magnificence of this world famous national park. At over 750 metres above sea level you can become part of the environment, paddle beneath towering glaciated mountains and view the majestic glaciers and summit of the mighty Aoraki Mount Cook.
We offer an Eco-Tourism experience. Ecotourism is defined as responsible travel to natural areas that conserves the environment and involves interpretation and education. Ecotourism means uniting conservation, communities, and sustainable travel.
Leave the crowds behind and explore the nooks and crannies of the glacier lake, getting up close with ice bergs - yes icebergs!!!!
All the trips are fully guided and our guides have a vast knowledge of the area and all its inhabitants. Our trips suit kayakers with a small amount of paddling experience to experienced paddlers. We are the only glacier kayaking company in New Zealand and we aim to provide you with the best possible outdoor experience naturally!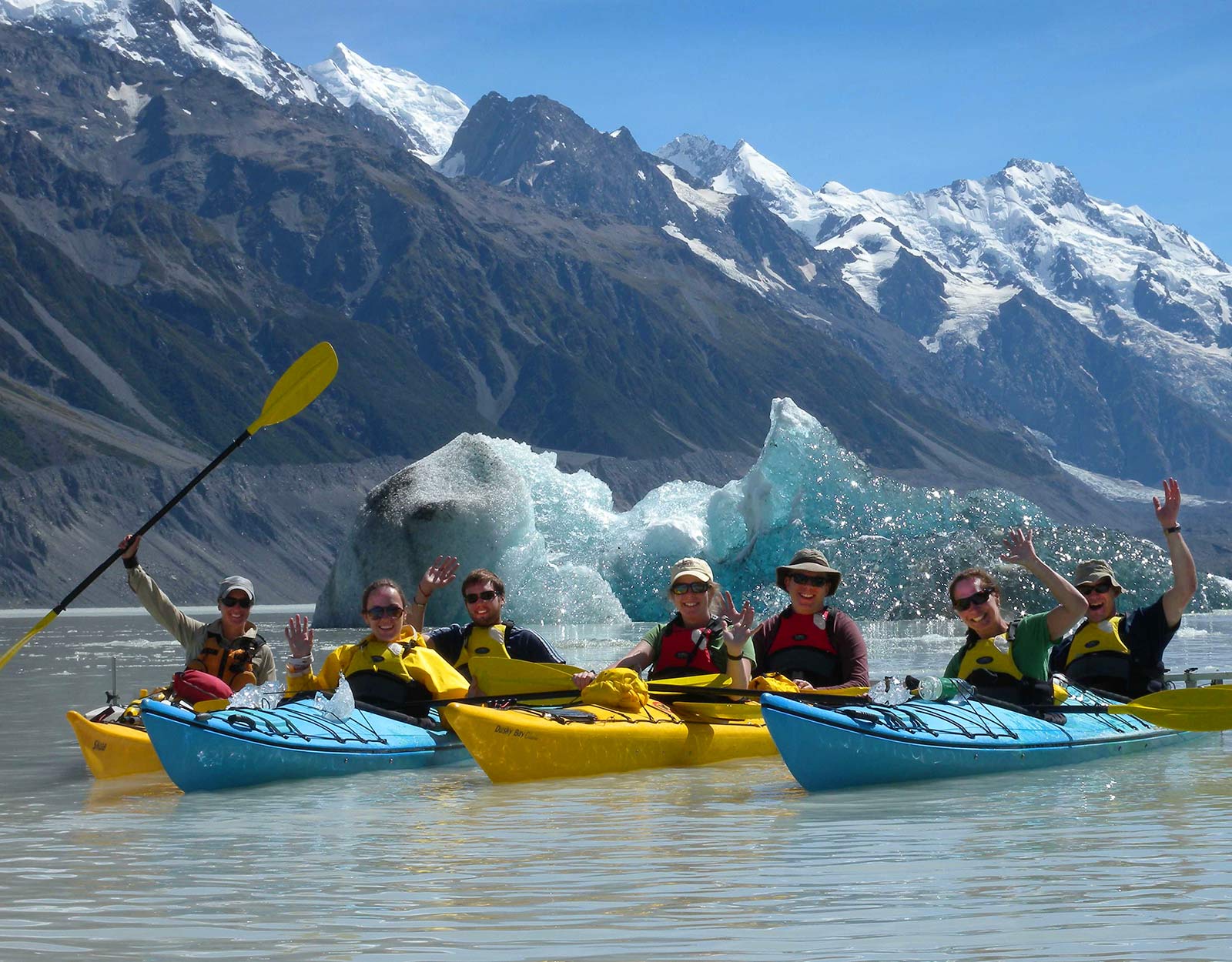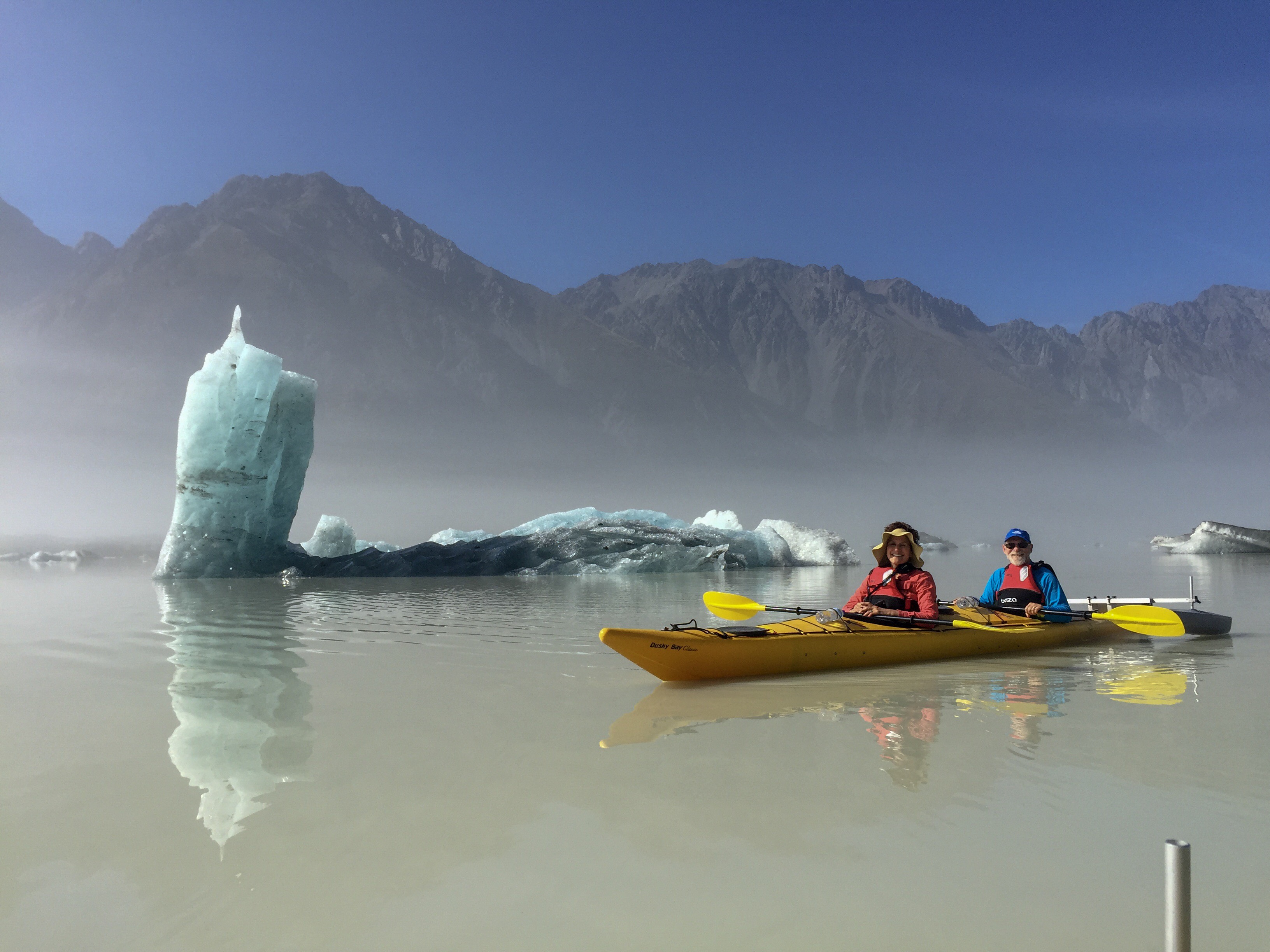 A full on adventure for the keen kayaker. This trip provides a unique opportunity to meet icebergs face to face, view the glacier terminal face from a safe distance and explore the Tasman Lake with plenty of time to take it all in! There may be opportunities to beach the kayaks and explore some shoreline areas. We also stop in a glacier bay to have lunch. Nowhere else in New Zealand will you experience an adventure of this kind.
New Zealand's longest glacier winds its way down from the Southern Alps for 29km before culminating at the terminal lake. The transition from glacier to lake produces impressive icebergs on a regular basis; this truly is 'big berg country'. Kayaks on all trips are fitted with sturdy outriggers for extra stability. We call them "Floaties".
Rated as one of Lonely Planet's top Ultimate Adventures in the World.

DEPARTURE LOCATION AND TIMES:
Trips depart from The Old Mountaineers' Café Bar.
Depart: 9.00am.
Trip duration is 4-6 hours.
Minimum age: 13 years.
Cost: $295 per person.
Minimum numbers required.
2023 Season start mid October.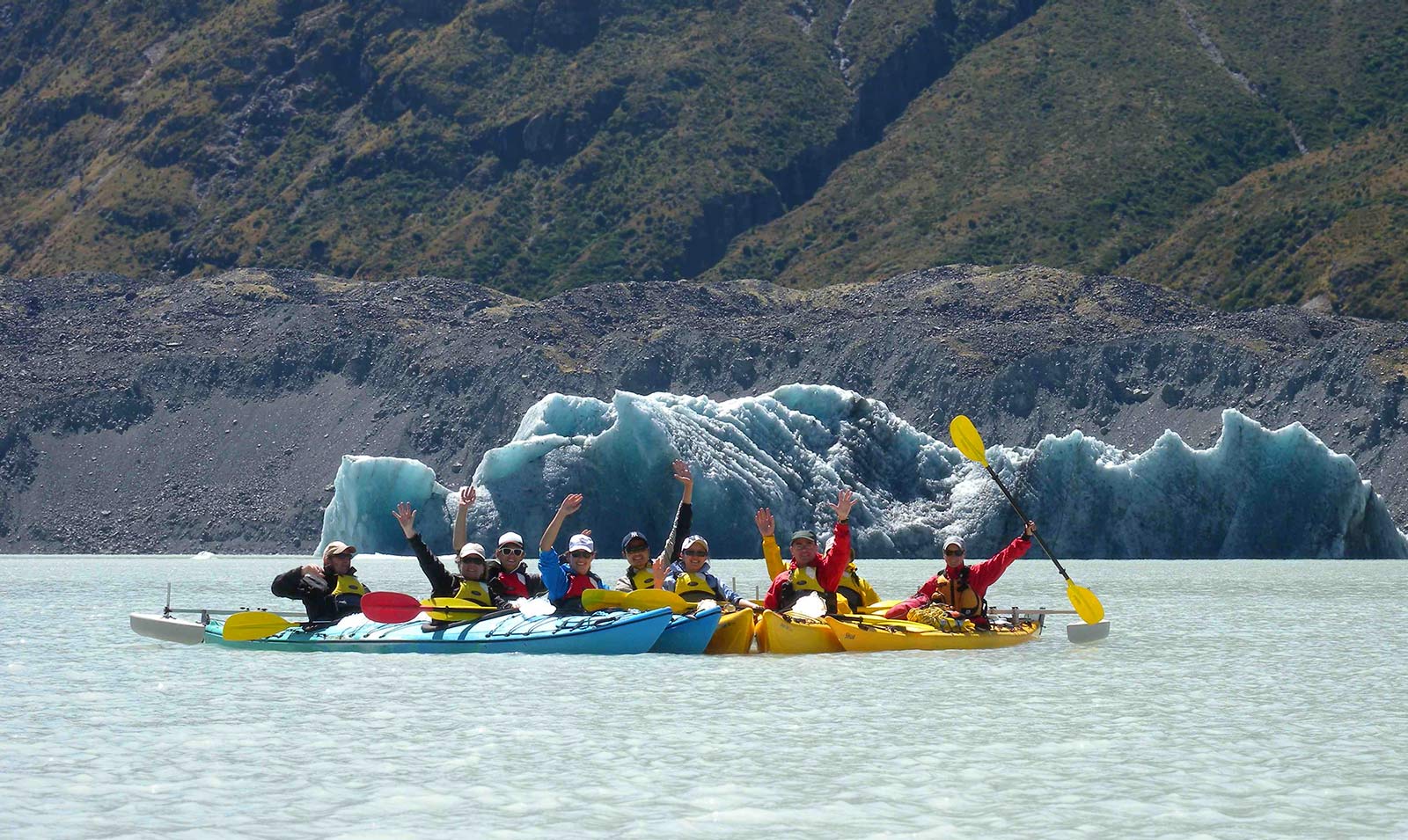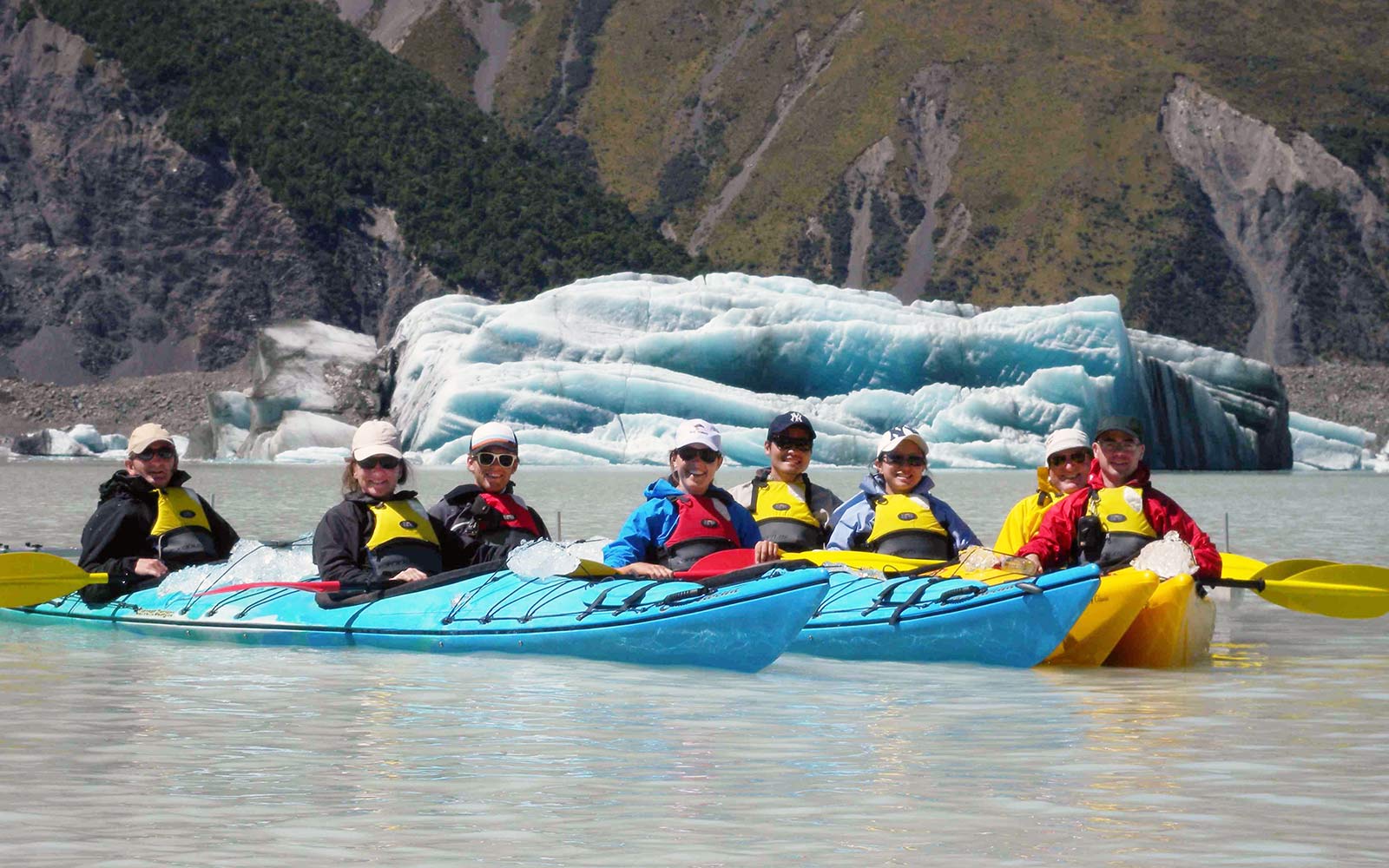 Bookings
Bookings are essential for this classic day-eco-tour.
Contact: Glacier Kayaking trips depart from The Old Mountaineers Cafe, Bar and Restaurant - Next door to the Department of Conservation Visitor Information Centre. Click "Book" at the top of this page.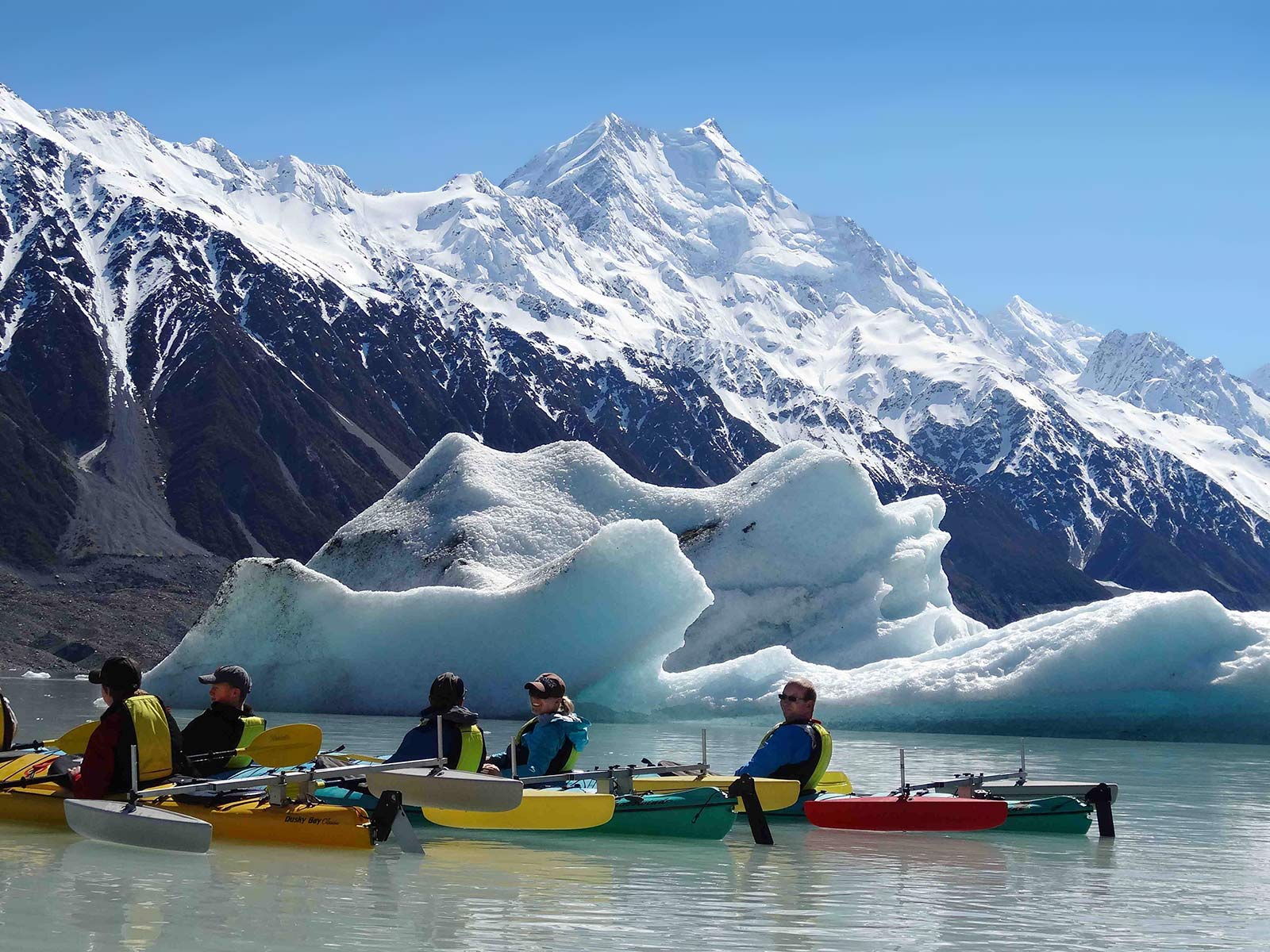 Great views of Aoraki Mt Cook and the Southern Alps
MUELLER GLACIER LAKE KAYAKING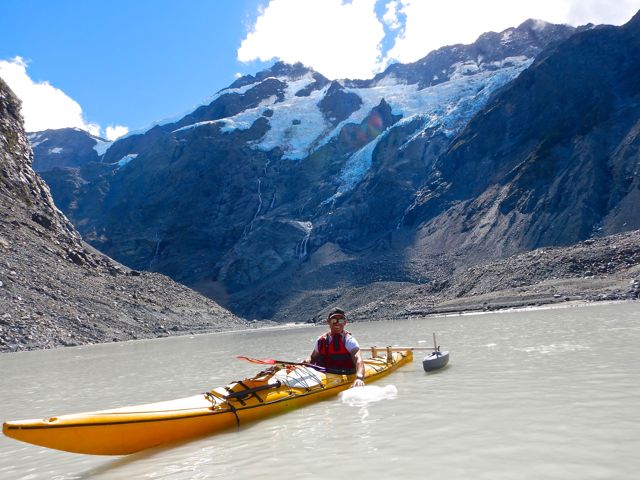 This is the ultimate Eco-Tour taking in the most awe-inspiring scenery. The trip starts at the Old Mountaineers Cafe next door to the DOC visitor info centre. We drive out to the Hooker Valley car park where we start our short trek. We use our exclusive track to the Mueller Lake where we have our gear shed and launch site. You won't see any other people during this tour.
Once kitted up with kayak safety gear we head off on our adventure. We paddle through the nooks and crannies of the old glacier moraines which have formed the perfect route to the head of the lake. We dock the kayaks right under the towering Mt Sefton where avalanches can be seen and heard! A short trek on the glacier morrianes to explore glacier ice remnants is the order of the day from here if time permits!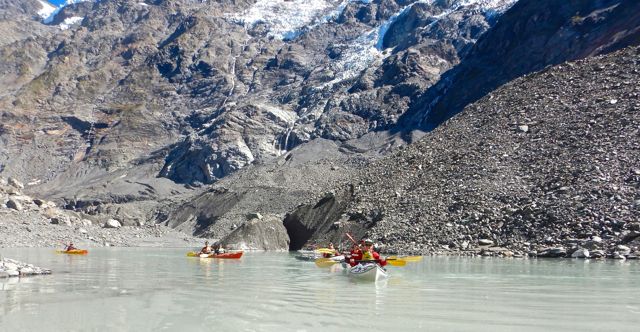 Bring your lunch and refreshments and be stunned by the sheer beauty and scale of the area. There are no other operators in this area and there are no aircraft permitted to fly overhead. This is definitely the "Quiet Zone" of the Aoraki Mount Cook National Park.
You may not see any icebergs on this trip but you will journey through incredible terrain with breathtaking views. The south side of Aoraki Mount Cook as well as the giant glaciated faces of Mount Sefton and The Footstool dominate the views.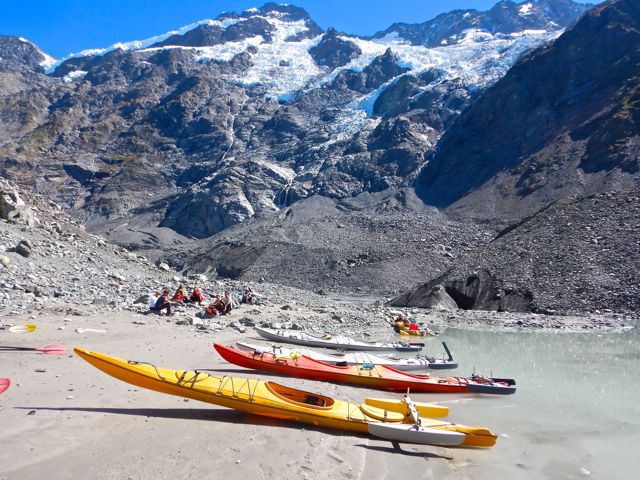 This trip is for people who have done some kayaking and enjoy a total eco experience. All double kayaks are fitted with outriggers (Floaties) for perfect stability.
Cost: $320 per person maximum 8 people only.
Minimum age 13 years. Bookings essential.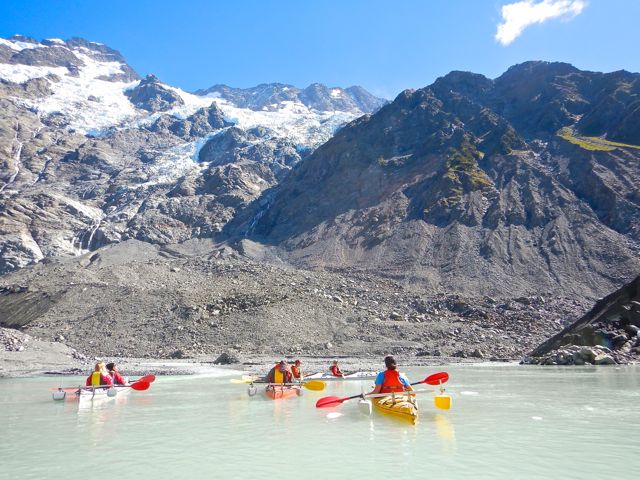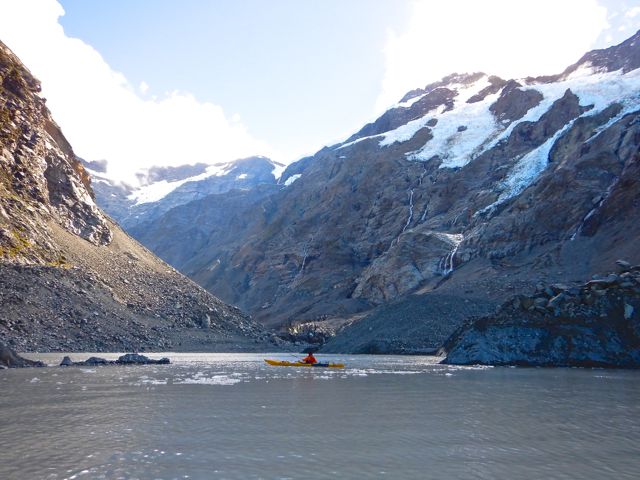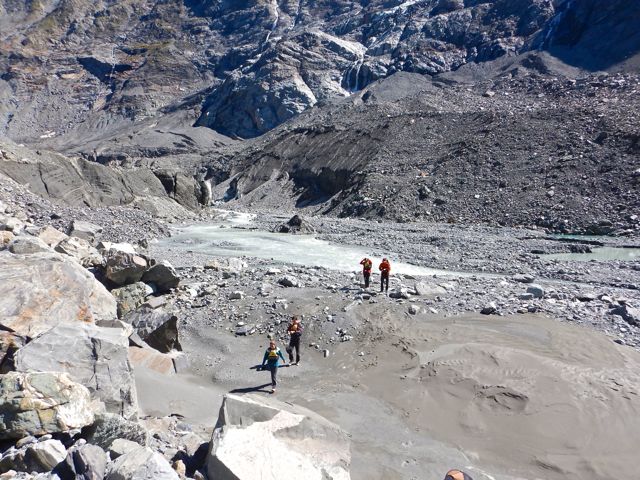 "Glacier Kayaking works with the Department of Conservation (DOC) to ensure that our impact on New Zealand's National Parks and reserves is minimal. We are an approved concession holder, ensuring that your visit with us to conservation lands adheres to best practice and contributes to the management of these protected areas"
You should bring:
Sun Cream
Sun Hat
Sun Glasses
Wind Shell
Walking Shoes/Runners or sandals (sturdy footwear required for the Mueller Lake trip)
Lunch & Water
Camera
Season: from mid-October until mid-April.
HERE'S WHY WE HAVE SO MUCH ICE AND SNOW ON THE TASMAN GLACIER!

---
Frequently Asked Questions
Is glacier kayaking for me?
Yes - if you want to experience Aoraki Mount Cook the Eco-Friendly way, escape the crowds and explore the glacier lakes at your own pace from the comfort of our safe stable sea kayaks fitted with outrigger stabilisers for maximum stability. Please note that we do not paddle to the the front terminal face of the glacier because this is where the ice bergs calve from. Our recommended safe distance is 1500 - 1800 metres. This gives us a great view should anything break off!!!
Can I rent a kayak?
Short answer - no
Our concession with the Department of Conservation to operate in the Aoraki Mount Cook National Park does not allow rental options. Trips are guided to ensure your safety.
How fit do I need to be?
If you are reasonably active you will find our trips fairly easy. We like people coming on the Tasman Lake trip and Mueller Lake trip to have been in a kayak before.
What if the weather is bad?
Bad weather for us is excessively strong wind usually caused by a westerly frontal system coming off the Tasman Sea, crossing the main divide of the Southern Alps and then creating strong winds and rain/snow in the Aoraki Mount Cook National Park. The senior guide of the day will make the weather call for the day.
What do I need to take?
A camera, sun cream, good walking shoes or sandals, sunglasses, sun hat, warm clothing, rain jacket, personal medication, lunch food and water.
Will I capsize?
Very unlikely; all of our sea kayaks are equipped with outrigger stabilisers (we call them "Floaties"). They are adjustable to varying lengths for all types of conditions. You will receive a full safety briefing prior to the trip commencing. We stay within 100m of the shoreline most of the time.
What is the difference between a speed boat cruise and a kayak trip on the glacier lakes?
There is no comparison!!!! Our sea kayaks can go places speed boats can't go. We can visit the "nooks and crannies" of the glacier lakes that only small craft like sea kayaks can get into. You will escape the crowds and the drone of motorised boats. Our groups are small, only up to 8 people with their personal guide. The Tasman Glacier Lake we can take up to 16 people per trip.
What do you supply?
We provide some specialist paddling apparel, including buoyancy aid, spray skirt, spray jacket.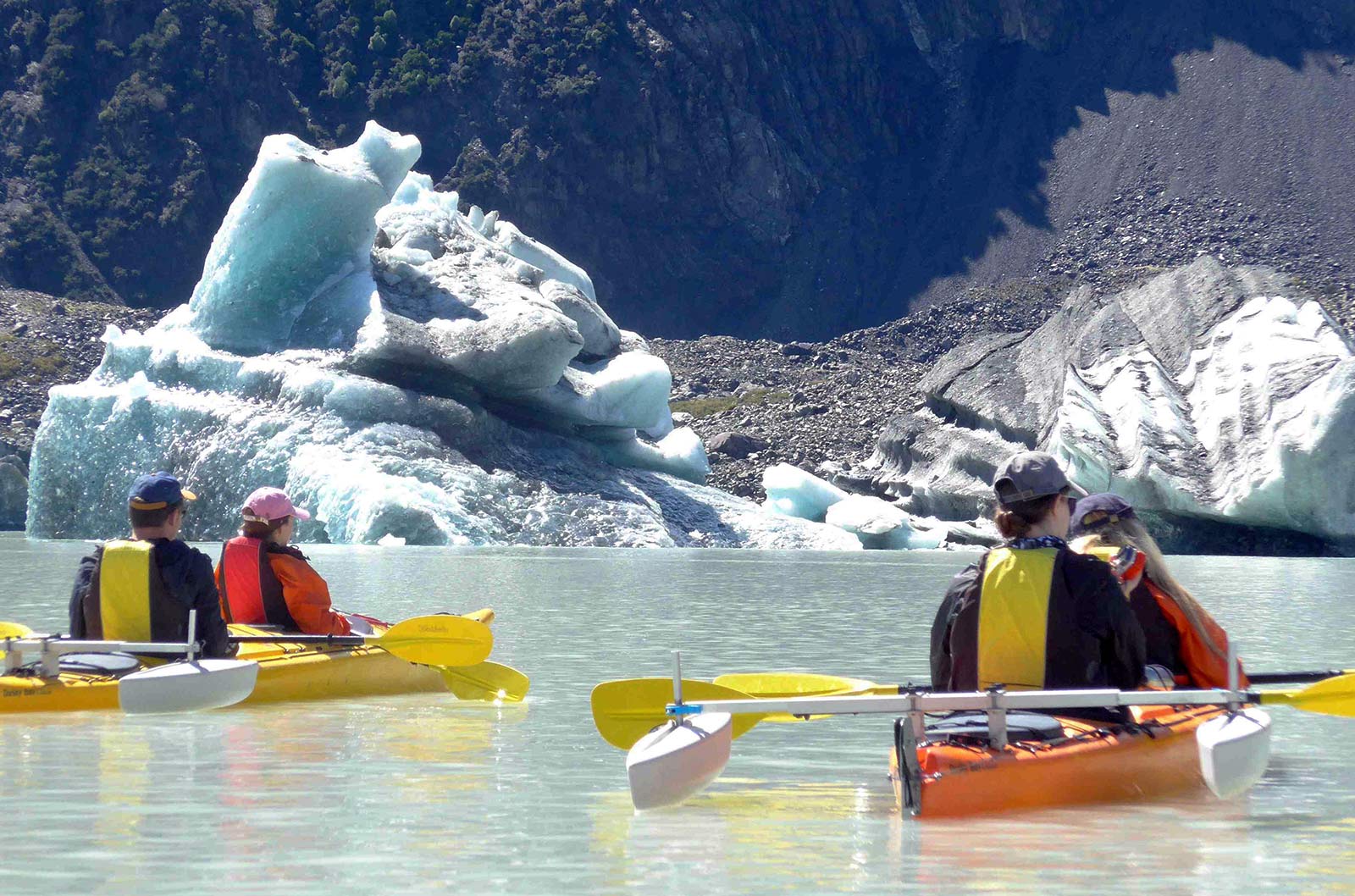 Cancellation Policy
We reserve the right to cancel or change any part of any kayaking trip. This could be due to, but limited to adverse lake, river, road or weather conditions. We have a strict 48 hour cancellation policy which means that if WE cancel the trip due to any of the above conditions we will give you a full refund or no charges made. If you decide not to do the trip within 48 hours of the trip start time for any reason (you sleep in, have a vehicle breakdown, an unexpected illness or injury etc) or we cancel your booking because of client unsuitability due to poor fitness or health or because of inadequate kayaking experience due to ability and conditions there will be no refund. Please ensure you have travel insurance to cover all potential cancellation scenarios. Credit Card details held only to secure the booking. No money is taken from your card except if the cancellation policy comes into force.